Filter by Subcategory
EMS Courses
Registration Unavailable
Paramedic Skills Test Site - NREMT
with Chris Cannon

Dec 15, 2023 at 8 am
Paramedic psychomotor exam for NREMT certification.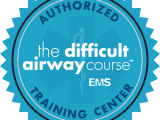 The Difficult Airway Course: EMS
with Chris Cannon

May 16, 2024 at 8 am
The definitive EMS airway management class. www.theairwaysite.com
Please note: Students must purchase and bring the following textbook to class: The Walls Manual of Emergency Airway Management, 6th Edition. 
A difficult airway pocket guide is provided to all students. 
Learn the full range of airway management techniques — including use of video laryngoscopes & other advanced imaging devices, extraglottic devices, drug-assisted intubation and cricothyrotomy.
Work with expert faculty who know the unique challenges facing EMS providers.
Use proven airway devices in small group sessions.
Practice decision-making and airway techniques in Code AirwayTM simulations.
Face the most challenging patient scenarios in a no-risk environment. These include: elevated ICP, pulmonary edema, cardiogenic shock, status asthmaticus foreign body in the airway, direct airway trauma, multiple trauma with shock, and many more.